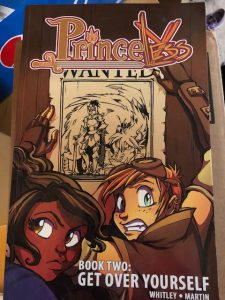 I read the first volume of Princeless a while ago, but I didn't wind up reviewing it. So as a quick recap, Princeless is the story of Princess Adrienne, whose parents have locked her in a tower (as they've done with her many other sisters) to keep her "safe". She escapes, and her family thinks she's been eaten by a dragon. But as it turns out, she, the dragon, and a young dwarf woman instead are going out to have adventures and save her other sisters.
This volume involves Adrienne's attempted rescue of her sister Angelica. But much like Adrienne wasn't being kept safe in her tower, Angelica's situation is different than how Adrienne perceives it. Hilarity ensues.
I love the Princeless graphic novels because the story is great and they're drawn in a style I enjoy. Plus, I know that the next volume involves pirates, and I'm super excited for that!