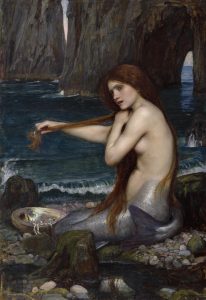 I spent May writing poetry for Mermay, which resulted in a bunch of new merfolk-themed poems. I'm teaming those up with a few other merfolk-themed poems and short stories, and collecting them as What If I'm a Merfolk?
I don't have my cover art yet, or I'd be sharing that today. Instead, I can tell you that What If I'm a Merfolk? will contain 23 poems, 2 pieces of flash, and 1 short story. It explores the topic of merfolk from that of being a transformation from mortal to merfolk, to dealing with the environmental degradation of our oceans, to the various relationships between merfolk and with humans, whether they be pesky or beloved.
This will be my first collection to include my poetry (though I've had my poems appear in or on a number of magazines and websites), so I'm especially excited to see what people will think of it!
Pre-orders for What If I'm A Merfolk will be available in early to mid-July!