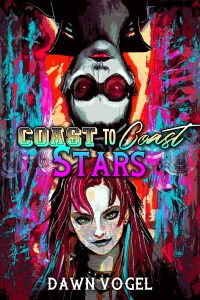 My latest collection, Coast to Coast Stars, will be out on June 30, 2020, and you can pre-order it now! This will be an ebook only publication of five superhero short stories and flash pieces, most of which take place in Cerulean City. (One story takes place in Cobalt City.)
Cerulean City, California. Home to the film industry, beautiful beaches, an extensive harbor, and superheroes. With superheroes come supervillains, and conflict between the heroes and villains of Cerulean City has persisted for generations.
Coast to Coast Stars introduces a reluctant visitor learning about the heroes and villains of Cobalt City's sister city on the other coast, then follows a few of these heroes and villains throughout their respective histories in five short stories, some of which are published here for the first time. Meet J.J. and the Justice family of heroes, Preethi, Cyclone and Celadon Cyclone, Doctor Ruthless, and Cobalt City's own Gray Dawn, the alter ego of pop sensation Cassidy Sweet!
Get a taste of Cerulean City now, because it'll be back in my planned November publication, currently untitled, but featuring Sarah Castile, one of two women to ever operate under the mantle of The Huntsman!