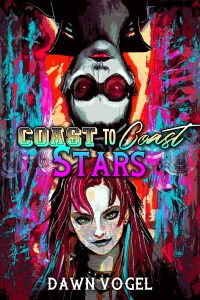 If you've been perusing my site recently, you might have noticed a new book cover on the front page! With the cover by Luke Spooner, Coast to Coast Stars is a collection of superhero short stories primarily set in Cerulean City, but with ties to Cobalt City.
Cerulean City is my creation, the West Coast's answer to the East Coast's Cobalt City. It's a southern California city where the film industry reigns, and where the superheroes have adapted over the years based on outside circumstances. In the case of the stories in Coast to Coast Stars, there's a villain who can drain powers, leading most of the heroes of the time to be tech or magic based.
The stories in Coast to Coast Stars span several decades–the earliest story is set in the mid-1970s, while the most recent story could have happened in an alternate 2020. They're all linked to each other, however, primarily through Gray Dawn, the superhero identity of 90s pop star Cassidy Sweet. The other characters that appear in "Happily Never After," the lead story in the collection, pop up in several of the other stories.
Coast to Coast Stars will be available in ebook format only, on June 30, 2020, through DefCon One Publishing!