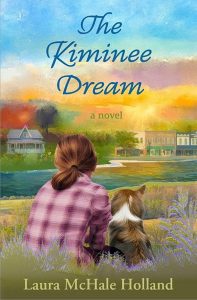 The Kiminee Dream by Laura McHale Holland (WORDforest, 2020) is a surreal and beautiful slipstream novel about the inhabitants of a very unusual small town in Illinois.
The novel primarily follows the story of Carly Mae from her birth (a momentous occasion for the town) through her early teen years. Along the way, she exhibits talents in a variety of fields, but encounters numerous setbacks that rob her of these talents. Throughout it all, though, she's got friends and family helping her out, sometimes in unusual ways.
This might seem like a normal sort of coming-of-age novel, but the town of Kiminee is anything but normal. The town itself is almost another character in the story, with a peculiar sort of personality. It, and its inhabitants, also hide many secrets, which come out over the course of the book.
If you like a sort of slice-of-life story with surreal elements and beautiful prose, you may enjoy The Kiminee Dream!
Content notes: sexual and physical assault are elements of the plot. While the former is not described with any detail, the latter is on occasions.
The author provided me with a free copy of this novel in exchange for review consideration.