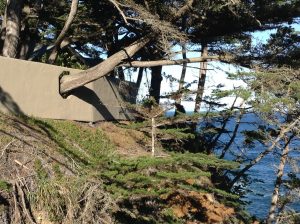 This April flew past, and I can hardly believe it's May now! So it's time for another month's prompts!
This month, we've got a random assortment of words, some of which are themed toward May or spring.
You can also use the image with this post, of trees  that have grown at an angle to the ground, which necessitated the retaining wall having holes in it to accommodate the trunks.
Check back on the last Friday of each month (or occasionally the first day of a new month, when that falls on a Friday) for my History That Never Was writing prompts!
| | | | |
| --- | --- | --- | --- |
| Day | Word 1 | Word 2 | Word 3 |
| 1 | dream | main | skin |
| 2 | tiptoe | cherish | freight |
| 3 | gossip | traction | grin |
| 4 | abacus | clock | ending |
| 5 | cookie | crowd | session |
| 6 | haunt | smoke | need |
| 7 | apple | bear | past |
| 8 | gust | roam | reference |
| 9 | hear | meal | middle |
| 10 | knowledge | tract | partner |
| 11 | sport | relocate | army |
| 12 | beat | jealous | awesome |
| 13 | desire | bow | opposite |
| 14 | cow | king | motorist |
| 15 | space | wheels | purchase |
| 16 | loose | landowner | joy |
| 17 | season | stop | outfit |
| 18 | petty | beast | glowing |
| 19 | exchange | terminal | frolic |
| 20 | father | dock | suffering |
| 21 | captivate | purity | often |
| 22 | genuine | gaffe | plant |
| 23 | expand | milk | reason |
| 24 | gap | comfort | crucial |
| 25 | plenty | | hues |
| 26 | green | proceed | module |
| 27 | lift | raincoat | allow |
| 28 | potato | thread | windy |
| 29 | rays | glass | acute |
| 30 | bucket | fecund | bravado |
| 31 | lost | cutting | floral |