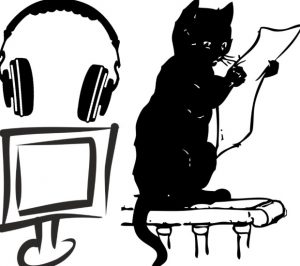 Look, I don't know where April went either, but it's vanishing far more quickly than March did.
Reading: A stack of books to review, when I'm not re-reading my own writing.
Watching: We finished out season 2 of Altered Carbon (and enjoyed it, even though it was different from the first season) and have returned to season 3 of Riverdale (just watched the Heathers: the Musical episode).
Listening To: Because I anticipate working from home for a while and needed a bigger work space than 1/4 of the dining room table, I cleared off our old living room desk to make myself a day job workspace. And because of my set in 1995 Mage game, my ancient iPod (I bought it in 2005 or so) was hooked up to a small set of speakers there. So I've been listening to the iPod that I haven't added any new music to for at least five years, if not longer. Most of the music on it is from the early 2000s or earlier. It's a mix of goth and metal, but also snippets of many other things. After all, I'm the one whose playlist once went from Marilyn Manson to Johnny Cash, and then I got to watch my friends try to comprehend the 180 they'd just been through.