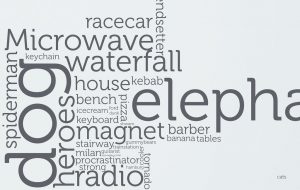 March has seemed a lot longer than it ought to have, but this is shaping up to be the new normal in our neck of the woods.
This month, we've got a random assortment of words, plus a bonus handful of words in the image for this post. Feel free to toss them in wherever you like!
If you want an extra challenge for April, use these words in your title. They could also wind up in your story, but coming up with really random titles might also inspire interesting stories!
Check back on the last Friday of each month (or occasionally the first day of a new month, when that falls on a Friday) for my History That Never Was writing prompts!
| | | | |
| --- | --- | --- | --- |
| Day | Word 1 | Word 2 | Word 3 |
| 1 | Battle | Troop | Ignorance |
| 2 | Predator | Gainful | Inflation |
| 3 | Coincidence | Strange | Snails |
| 4 | Fork | Grass | Unfortunate |
| 5 | Housewife | Desire | Horoscope |
| 6 | Base | Tribute | Fuel |
| 7 | Childlike | Sanctuary | Raw |
| 8 | Sound | Married | Babies |
| 9 | Far-flung | Bee | Lunch |
| 10 | Grandmother | Birth | Constituency |
| 11 | Pumpkin | War | Consign |
| 12 | Abate | Apple | Nurturing |
| 13 | Feet | Notice | Related |
| 14 | Advance | Shipment | Steam |
| 15 | Fly | Key | Autopilot |
| 16 | Floppy | Chat | Reaction |
| 17 | Tent | Bold | Humdrum |
| 18 | Adjustment | Mathematics | Biggest |
| 19 | Protect | Verse | Stem |
| 20 | Miscreant | Wilderness | Enjoy |
| 21 | Card | Hunt | Gate |
| 22 | Wet | Tie | Soothe |
| 23 | Scream | Swanky | Tiger |
| 24 | Satisfy | Meeting | Assorted |
| 25 | Spend | Terrify | Society |
| 26 | Erect | Dazzle | Spicy |
| 27 | Ghost | Solicit | Bind |
| 28 | Jaded | Scare | Insert |
| 29 | Opress | Unequal | Flashy |
| 30 | Relax | Pleasant | Foamy |