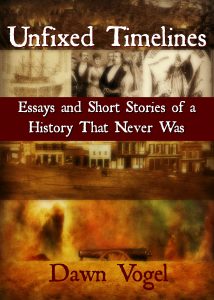 I've got a couple of short story collections that I'm working on to release this year!
The first will be a collection of short stories from Cobalt City and one of its sister cities, Cerulean City, California. The connection started when I established a new hero in Cobalt City, and then had her on a mall tour in Cerulean City. From there, I worked up the details of some of the heroes in Cerulean City and wrote a few stories about them. So this will be a collection of stories about super heroes (and super villains) and pop music. It's tentatively titled Coast to Coast Stars (unless I come up with a better title).
The second collection will be a sequel to Unfixed Timelines called Unfixed Timelines 2. It will follow the same format as the first book, with essays explaining the real history that's referenced in my short stories. This collection will also include at least one poem, because yes, I've written an alternate history poem!
Right now, Coast to Coast Stars is scheduled for July and Unfixed Timelines 2 is scheduled for September. I'll talk more about each of them in the coming months!