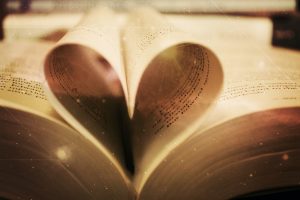 January has flown by, and we're reaching February! It's a 29-day February this year, and I'm definitely going to be taking advantage of that extra day! Most of the words for this month are themed to the season, but there are also a good handful of really random things, so that you can have some non-seasonal prompts!
You could also integrate the photo I've included with this post as a part of your prompt. This month, it's an open book with two pages tucked together near the spine to form a heart.
Check back on the last Friday of each month (or occasionally the first day of a new month, when that falls on a Friday) for my History That Never Was writing prompts!
| | | | |
| --- | --- | --- | --- |
| Day | Word 1 | Word 2 | Word 3 |
| 1 | Shine | Possibility | Slam |
| 2 | Oasis | Serious | Solve |
| 3 | Busy | Exclusive | Entertainment |
| 4 | Violet | Pressure | Printer |
| 5 | Loose | Arise | Preparation |
| 6 | Ash | Primary | Marriage |
| 7 | Flesh | Composer | Cabin |
| 8 | Dirty | Behead | Cucumber |
| 9 | Vegetable | Innocent | Miner |
| 10 | Friend | Locate | Coffin |
| 11 | Legs | Gradual | Adjust |
| 12 | Tongue | Grind | Wander |
| 13 | Phone Call | Confession | Formulate |
| 14 | Wolf | Undermine | Open |
| 15 | Smooth | Review | Murder |
| 16 | Sour | Nuclear | Deck |
| 17 | Moon | Article | Dish |
| 18 | Turtle | Handy | Discourage |
| 19 | Apathy | Cause | Transform |
| 20 | Salt | Duck | Speed |
| 21 | Truth | Thesis | Model |
| 22 | Love | Steam | Abnormal |
| 23 | Indoors | Ease | Cash |
| 24 | Seafoam | Genetic | Leap |
| 25 | Roses | Fire | X-ray |
| 26 | Peace | Absence | Tart |
| 27 | Onyx | Lungs | Excitement |
| 28 | Light | Residence | Reading |
| 29 | Freezing | Deposit | Dull |