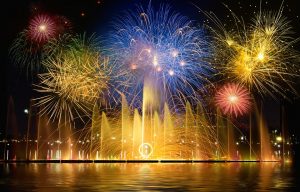 2019 is coming to a close, so it's time for the January 2020 writing prompts! Most of the words for this month are themed to the season, but there are also a good handful of really random things, so that you can have some non-seasonal prompts!
You could also integrate the photo I've included with this post as a part of your prompt. This month, it's a variety of fireworks in red, gold, and blue, exploding over a fountain and body of water lit in gold.
Check back on the last Friday of each month (or occasionally the first day of a new month, when that falls on a Friday) for my History That Never Was writing prompts!
| | | | |
| --- | --- | --- | --- |
| Day | Word 1 | Word 2 | Word 3 |
| 1 | New | Waiting | Celebration |
| 2 | Cold | Fortune | Migration |
| 3 | Ancient | Waddle | Resolution |
| 4 | Jarring | Color | Feather |
| 5 | Bleak | Parade | Hero |
| 6 | Slick | Equality | Freezing |
| 7 | Story | Tradition | Justice |
| 8 | Frigid | Swim | Leader |
| 9 | Lost | Liberty | Fish |
| 10 | Speech | Snow fort | Torch |
| 11 | Icicle | Two-faced | Update |
| 12 | Sharp | Command | Colorful |
| 13 | Unit | Tire | Element |
| 14 | Investigate | Postmark | Wobble |
| 15 | Comparison | Hot chocolate | Polar bear |
| 16 | Speaking | Quickly | Wedding |
| 17 | Ceremony | Emotions | Preparation |
| 18 | Secret | Rebellion | Ship |
| 19 | Orange | Belief | Self-control |
| 20 | Thermometer | Elephant | Shampoo |
| 21 | Ticket | Spy | Chair |
| 22 | Pigeons | Crab | Wig |
| 23 | Laser | Chart | Curl |
| 24 | Generator | Envelope | Algae |
| 25 | Dragon | Plane | Socks |
| 26 | Tea bag | Carnival | Sand |
| 27 | Fringe | Scorpion | Cactus |
| 28 | Duster | Savanna | Revival |
| 29 | Shutter | Stop | Whale |
| 30 | Interfere | Season | Noisy |
| 31 | Chemist | Rome | Breath |