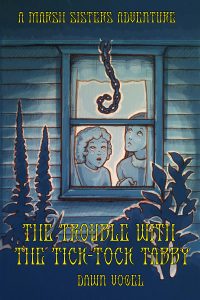 The Trouble with the Tick-Tock Tabby is one of my books that I market as middle grade, but what does that actually mean? In general, they are books that are meant for 8-12 year old readers, but they also feature different themes than a young adult, or YA, book would. A middle grade book generally focuses on the character(s) and their friends, family, and immediate world. The characters are more reactive than proactive, and they don't really reflect deeply on what's going on around them.
The Trouble with the Tick-Tock Tabby fits that description. The Marsh sisters are 9 and 12 years old, so right in the age range of the kids who are likely to read it. They are reactive from the start, trying to figure out how a clockwork animal got into the mechanical garden (where they live with their parents and baby brother). Then they want to know where the clockwork animal came from. They continue following clues throughout the book, and while they work with some slightly more proactive adults, even then, they are mostly reacting to what's been going on.
There's only one bit of The Trouble with the Tick-Tock Tabby that might be a little bit frightening for young kids–the sisters get kidnapped while they're pursuing this case. But they're able to remedy that situation quickly and return home. But for kids who have expressed fears about being kidnapped, this may not be the sort of book you want to give them. Otherwise, though, there's a little peril, but nothing violent or otherwise inappropriate for kids younger than the age of 8!