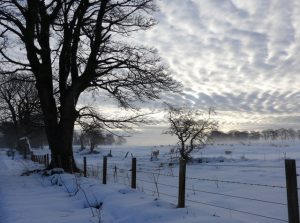 It's time for the December 2019 writing prompts, which are a mix of random prompts with some themed prompts for December weather and events this month. Hopefully, they'll provide some fun options for you.
You could also integrate the photo I've included with this post as a part of your prompt. Leafless trees along a wire fence with snow on the ground and a lightly cloudy sky just screams winter to me (even though I live in an area where we might not see snow … fingers crossed!).
Check back on the last Friday of each month (or occasionally the first day of a new month, when that falls on a Friday) for my History That Never Was writing prompts!
| | | | |
| --- | --- | --- | --- |
| Day | Word 1 | Word 2 | Word 3 |
| 1 | Anorak | Intelligent | Connection |
| 2 | Flake | Arctic | Bears |
| 3 | Achiever | Candles | Bitter |
| 4 | Blanket | Humdrum | Yule |
| 5 | Tinsel | Blizzard | Damaged |
| 6 | Boots | Advent | Blustery |
| 7 | Mixed | Brisk | Poinsettia |
| 8 | Hat | Drink | Chill |
| 9 | Cocoon | Snowsuit | Swell |
| 10 | Desire | Cold | Ski |
| 11 | Comfort | Guide | Down |
| 12 | Dreary | Wonderland | Need |
| 13 | Sling | Frigid | Vortex |
| 14 | Eddy | Adaptable | Gust |
| 15 | Ice | Squall | Best |
| 16 | Desk | Melt | Pellet |
| 17 | Drift | Dangerous | Night |
| 18 | Overcast | Hockey | Relax |
| 19 | Bridge | Polar | Jingle |
| 20 | Holiday | Nonstop | Slippery |
| 21 | Snow | Skating | Organization |
| 22 | Watch | Toboggan | Lights |
| 23 | Presents | Giants | Wind |
| 24 | Zero | Cookies | Sick |
| 25 | Mindless | Wool | Wreath |
| 26 | North | Tacit | Stiff |
| 27 | Force | Chimney | Paint |
| 28 | Tub | Panicky | Scarf |
| 29 | Raw | Sticky | Sudden |
| 30 | Rebuild | Hibernate | Phone |
| 31 | Disastrous | Yield | Gingerbread |