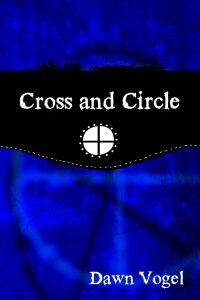 I'm now to a point in my writing career where if I need a cover for a book, I hire a professional. But for many of my early self-published books, I designed my own covers. The majority of them were photo manipulations of photos I had taken.
For Cross and Circle, though, I had to do the art myself, for the most part. I didn't have any images of pecked crosses, so I made my own. With a bit of warping and layering of textures, I was able to get a striking book cover that may not tell you much about the contents, but at least it worked as a reasonably good book cover. It's one of my favorites that I designed myself (though I am pretty proud of all the covers I designed), in large part because I was able to restrain myself and not go too overboard with it. Some stock photography might have jazzed it up a bit more, but I didn't want this book to look like a romance novel (because it's not). So the simpler cover was perfect.
Cross and Circle is available on Amazon or through Channillo!