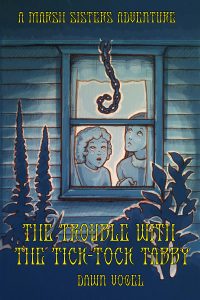 The Marsh sisters, Chrysanthemum and Marigold, were the first characters I wrote when I started getting serious about my writing. Since then, they've dealt with a thief in the mechanical garden in "The Recondite Riddle of the Rose Rogue," a clockwork monkey acting up in "The Marvelous Matter of the Mischievous Monkey," and a missing clockwork cat in The Trouble with the Tick-Tock Tabby. They have all sorts of adventures in their steampunk version of Dover, England, in and out of the mechanical garden in which they live.
If you haven't noticed, the titles all have a pattern of alliteration. Sometimes, when I'm bored, I like to come up with new titles for future Marsh sisters stories. Next on the agenda is "The Wearisome Worry of the Wily Waif," though I haven't started writing that story yet. Someday, I'll have to come up with good titles for X, Y, and Z!
If you're a fan of girl detectives and steampunk, or know someone who is, The Trouble with the Tick-Tock Tabby is available in print or ebook formats. The short stories can most readily be found in the 2017 Young Explorer's Adventure Guide ("Rose Rogue") and the Young Explorer's Adventure Guide, vol. 5 ("Mischievous Monkey"), both of which can also be found in print and ebook formats.