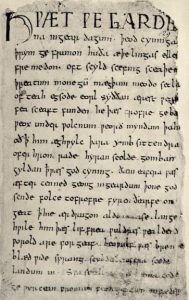 The Write Like You're Alive challenge is a month-long effort to create something every day of the month. I've done the challenge three times now, but this year was the first time I did it strictly with poetry. I didn't end up writing a poem every day–there were a couple of weekends where I just had so much going on that I couldn't carve the time out to do anything else, and one weekday where my brain wouldn't cooperate. But over the course of the 31 days of August, I wrote 26 poems.
The longest poem I wrote was 40 lines, on the last day of August, while the shortest poem I wrote was 4 lines (oddly, on August 30th, when I wrote 2 short poems). I started and ended the month with post-apocalyptic pieces, but I also wrote a horror poem, a mythology poem, a few mainstream poems, and then the rest were all fantasy, sci-fi, or a sort of undefinable speculative fiction. They were almost evenly divided between fantasy (7 poems) and sci-fi (8 poems).
I also tried a few forms I hadn't tried before, and I'll be talking about those in the coming months under my poetry tag! I don't think I did any rhyming poetry, but I haven't looked at any of these for a couple of weeks now, and time makes me forgetful.
Only two of the poems have gone out to any markets yet, as the bulk of the pieces we create in this challenge are chosen amongst for publication in an anthology. So I'm waiting to see which poem or poems get snapped up for that before I start sending the rest out to find other homes.