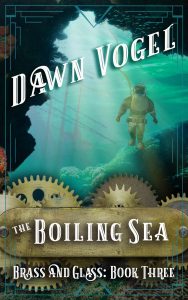 We've just re-released books 1 and 2 of my Brass and Glass series via DefCon One Publishing, and now I'm pleased to say that Brass and Glass 3: The Boiling Sea is available for pre-order!
Here's the blurb for the final book in the trilogy:
In the turbulent skies of the Republic, it's not always easy to outrace the storm …
With their destination determined, Captain Svetlana Tereshchenko and the crew of The Silent Monsoon are in pursuit of the Last Emperor's Hoard and the fabled Gem of the Seas. Or they will be, once they rescue their pilot, make a deal with a notorious scoundrel, and outfit themselves for their plunge into the Boiling Sea. When they realize what the Gem of the Seas is capable of, they must struggle with their loyalties, morality, and unforeseen complications to choose the right path. With alliances tested and rivalries resurfacing, Svetlana must lead her crew and associates on their most dangerous mission yet!
I'll be thrilled to have all three of these books available and with such awesome covers by the super talented J. Kathleen Cheney (P.S. You can hire her for your books here!)