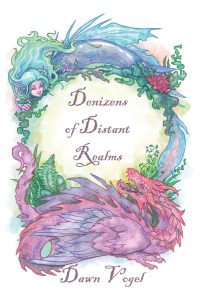 My new collection of short fantasy stories is out today, entitled Denizens of Distant Realms. All six of the stories presented here could take place in the same world, or they could take place in six different worlds.
In Denizens of Distant Realms, fantastical things intertwine in half a dozen fantasy short stories. Dragons and witches fend off suitors by unconventional means, old pacts with demons are fixed with true love, dark magic threatens lives and livelihoods, and magical shoes and mermaids both offer young women new opportunities.
I'm absolutely in love with the cover for this book, and I'm so pleased to have it surrounding six of my stories. Two of these stories, "The Cobbler's Daughter" and "A Dark Place" have been published before, but this is the first outing for "We Have Not Always Been Small," "Dry Spell," "Stormbringer," and "Catch." I hope you'll enjoy all of the stories! This one is available as an ebook and in print, so you can choose how you want to read the stories!