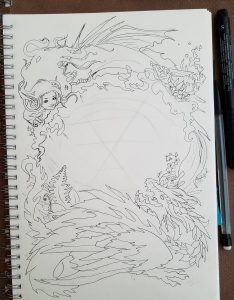 Denizens of Distant Realms, my next collection of short stories, will be out on August 20, 2019! It will be available in ebook and print formats, featuring a cover by the awesome Leigh Legler, who jumped at the opportunity to draw me some fantasy critters! Leigh was able to get me a quick sketch of what they're working on to share, and I LOVE it!
The blurb for this collection is as follows:
In Denizens of Distant Realms, fantastical things intertwine in half a dozen fantasy short stories. Dragons and witches fend off suitors by unconventional means, old pacts with demons are fixed with true love, dark magic threatens lives and livelihoods, and magical shoes and mermaids both offer young women new opportunities.
This collection will contain two of my previously published stories: "A Dark Place" and "The Cobbler's Daughter," along with four stories that have not been published yet. If you liked either of the two stories that have been published, I think you'll enjoy this whole collection!