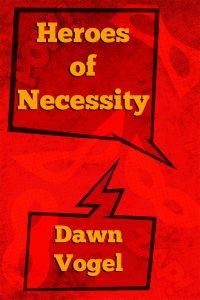 When I originally wrote "Fortissimo Possibile," it was for a specific anthology call that wanted stories of super heroes with minimal or "useless" powers. But even the most minimal of powers can actually be useful–it's just all in the way they're applied.
At first glance, Leila, the main character of "Fortissimo Possibile" is a divorced mom of two, long removed from her heyday as a sidekick. After all, her only power is increasing and decreasing volume. But as her kids help her learn over the course of the story, there's another power she's had all along that she never really identified previously. Her elder daughter developing her own powers brings Leila's secondary power to the forefront, and she has to acknowledge this hidden power in order to help both her daughters.
The title of the story is Italian (in my continued trend of giving stories names in languages I don't actually speak), and means "as loudly as possible," which was a fitting title for this little story.
You can read "Fortissimo Possibile" and other stories about super heroes with less flashy powers in Heroes of Necessity.