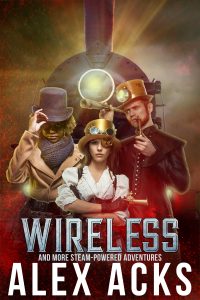 My newest book review is up at Mad Scientist Journal. Today, I'm reviewing Wireless and More Steam-Powered Adventures by Alex Acks, which is the sequel collection to Murder on the Titania and Other Steam-Powered Adventures, which I reviewed back in January.
Wireless is three more stories featuring the same characters as Murder on the Titania, and they have just as much cool steam-powered technology and piratical adventure as the first collection. Fans of Brass & Glass are likely to love Captain Marta Ramos and her crew equally to their love for the crew of The Silent Monsoon.
You can check out my review or the book itself!