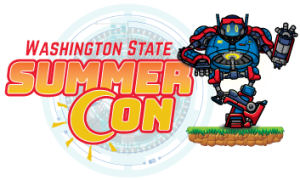 This weekend, I'll be at the Washington State Fairgrounds in Puyallup, Washington, for Washington State Summer Con. The event will have celebrities, cosplay, vendors, and more, and DefCon One is among the vendors. If you're attending the convention, you'll be able to find us in booth A57 all weekend! Razorgirl Press will also be in attendance, and you can find them (and the first two books of my Brass and Glass series) in booth 272. Of course, if you buy one or both of my books at the Razorgirl Press table and bring them to the DefCon One table, I'll be MORE than happy to sign them.
We'll also have copies of Five Minutes at Hotel Stormcove, which includes my story, "Safe Haven," available for purchase at the DefCon One table!
The convention runs from 10-6 on Saturday, June 15, and 10-5 on Sunday, June 16.