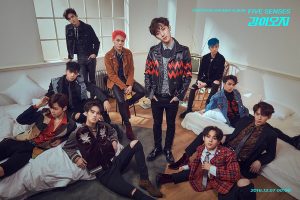 One of the things I've learned since starting to listen to K-pop is that the groups primarily play in ENORMOUS stadiums. A friend of mine saw BTS in New York recently, and the stadium there is VAST. Seattle doesn't have a stadium or arena of the appropriate size to host these sorts of groups, so my options are generally Los Angeles (for proximity) or Chicago (because I have family there) if I wanted to see any of my favorite bands.
But Jeremy gets concert announcement emails, and he asked me the other day, "Have you heard of Pentagon?" I had, enough so to recognize that they were a K-pop boy band that I'd heard once or twice.
Apparently they are not quite the draw of, say, Black Pink or Monsta X (both of whom have American tours that I had decided I couldn't really justify buying tickets for), because Pentagon is playing in Seattle in September!
And so we began our binge of listening to their music and watching their videos, and buying tickets to see them. We've acknowledged that we will likely be the oldest fans there, but we don't care. They're adorable and charming and we're looking forward to seeing them. (Even if the one I picked as my first favorite is no longer in the group.) It'll be interesting to see how a large K-pop group performs in a smaller venue, so if you're curious about that, check back in mid to late September for a recap of the show!