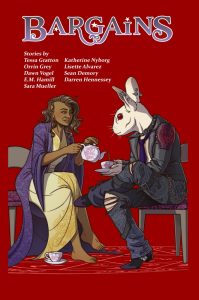 Two of my stories have come out recently!
"I Believe," which is a flash piece about imaginary friends, is out now at The Future Fire. It's very short and very sweet, and won't take you long at all to read!
I've mentioned the Bargains anthology from Pine Float Press before, but it's now available at Lulu, and contains my story, "All That Transpires Under the Night Sky." This story is a dark historical fantasy story with magic and demons. The characters are very much inspired by Croup and Vandemar from Neil Gaiman's Neverwhere, but my versions are much nicer people! This is also an example of me finding an older story on my hard drive and realizing it had good bones that could be molded into something neat! I'm very glad I unearthed this story!