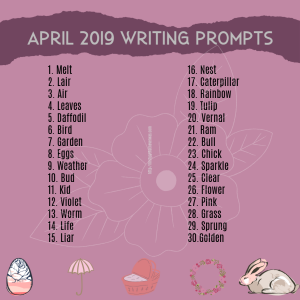 After a ridiculously slow January, it feels like this year is just zipping past. Hopefully things will slow down a bit in April so we can enjoy the nice spring weather in the Northern Hemisphere. And hopefully those of you in the Southern Hemisphere are having a pleasant autumn!
This month's prompts are spring focused, because I'm looking forward to warm days and later sunsets!
Check back on the last Friday of each month (or occasionally the first day of a new month, when that falls on a Friday) for my History That Never Was writing prompts!
Text version of the prompts:
Melt
Lair
Air
Leaves
Daffodil
Bird
Garden
Eggs
Weather
Bud
Kid
Violet
Worm
Life
Liar
Nest
Caterpillar
Rainbow
Tulip
Vernal
Ram
Bull
Chick
Sparkle
Clear
Flower
Pink
Grass
Sprung
Golden