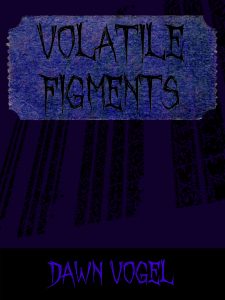 One of the stories in Volatile Figments that I had a lot of fun writing was "Miasma." It drew upon my time at universities, my theatre involvement, and The King in Yellow. For those unfamiliar with the last of those things, Robert W. Chambers wrote a collection of short stories called The King in Yellow, four of which deal with an apocryphal play said to drive those who read or experience it mad. It features in the Lovecraftian mythos, and it's been a plot element in several games I've played in (including one I'm currently playing in, where it ranks high among the things that are likely to be the cause of my character's imminent doom).
I've written three stories that involve The King in Yellow, but "Miasma" is the only story that actually includes the play itself. "Miasma" has some bits of humor, but it's a yellow-tinged sort of dark fantasy that will likely give you goosebumps!
If this sounds like your kind of story, you can read it and five other stories in Volatile Figments!