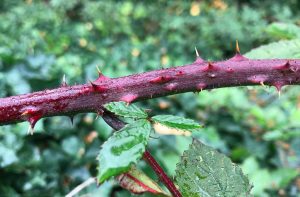 On Sunday, I typed the final words in my first draft of the novel I'm tentatively calling Promise Me Nothing. It's a young adult novel with paranormal elements, but I hesitate calling it urban fantasy (even though that's probably what it falls under). It's still going to need a lot of work before it's publishable, but I'm thrilled to have a draft done.
This novel started out as a wild idea I had several years ago, but after writing the first two chapters, I ran out of steam. I picked it back up in early January and have steamed through this first draft, knocking out a couple of chapters a week. This time around, the words came out a lot more easily.
The image with this post goes with the main character in the novel, a fae who was kicked out of her homeland. She goes by Briar Williams in the mortal realm, but her name in Arcadia was Briar of the Brambles, which is a redundant way of saying she's SUPER prickly!