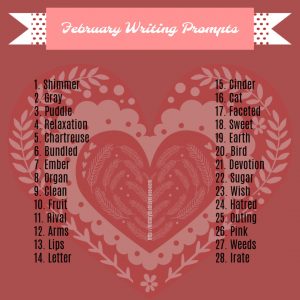 As January winds to a close, it's time to start looking at writing prompts for February!
For this year, I've still got some love-themed prompts, but I'm also taking some in very different directions. As always, use your own interpretation of the prompts!
Check back on the last Friday of each month (or occasionally the first day of a new month, when that falls on a Friday) for my History That Never Was writing prompts!
Text version of the prompts:
Shimmer
Gray
Puddle
Relaxation
Chartreuse
Bundled
Ember
Organ
Clean
Fruit
Rival
Arms
Lips
Letter
Cinder
Cat
Faceted
Sweet
Earth
Bird
Devotion
Sugar
Wish
Hatred
Outing
Pink
Weeds
Irate