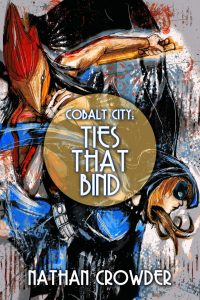 If your interests in books range toward women protagonists tackling issues that are relevant in today's world, but with a bit of superheroics thrown into the mix, you should definitely check out Cobalt City: Ties That Bind by Nathan Crowder.
This book features long-time Cobalt City superhero Velvet, in a team-up with a newer arrival to the cape and cowl scene, Bantam. Together, they crack down on a human trafficking ring in Cobalt City. This book confronts some difficult topics, but it does so gracefully. Some may find it a hard read due to subject matter.
If you've already read Cobalt City: Ties That Bind, I'd also recommend checking out some of Nathan's other books, like Ride Like the Devil (a motorcycle race on the West Coast with a mystery or two on the periphery) or Of Rooks and Ravens (gothic fantasy with necromancers)!