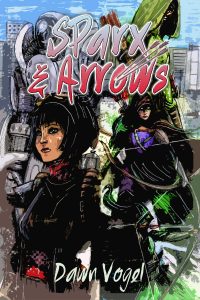 If you're looking for some exciting short stories to read as the days and night get colder and longer in the Northern Hemisphere, why not check out Sparx & Arrows? It's got three stories featuring three different incarnations of the Huntsman and three stories featuring Kara Sparx (the trick is that one story features both!). It's also got a handful of other Cobalt City heroes who pop up, including Snowflake and Kensei!
This book makes a great gift for people who like superheroes, historical fiction, and clockwork ex-presidents. (As Nate has said, "The presidential fandom is weird.")
Sparx & Arrows is available at Amazon in ebook and print formats!