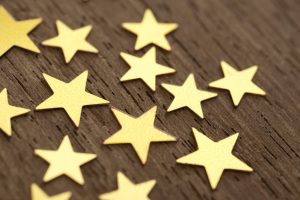 I was always a fan of stickers as a reward for good work as a kid, and it turns out that stickers are still a fantastic motivator for me. I joined a sticker club (Pipsticks [link is a referral in case you're interested in getting stickers too!]), which means that I get a ton of stickers every month (and I always look forward to my sticker packet arriving).
How do I use them? I have a paper planner book, where I use sticky notes to track what projects I should be working on. As I complete the work, I remove the sticky notes and write down what I did. And when I finish something (or reach a milestone in a bigger project), I add a sticker!
This serves both as a way to track how much I've accomplished, and a motivator to get through the work that I need to do in any given week. The accomplishment tracking allows me to look back and say "hey, I did good last week," or "hey, I slacked off last week, need to pick up the pace this week." And knowing that I can add stickers to my calendar helps me do good or pick up the pace, as needed!