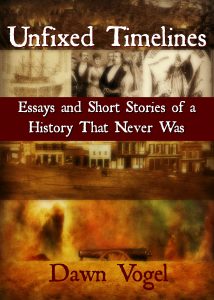 Today's the day when the last of the five essays from Unfixed Timelines appears on Channillo. The book will still be available to read there by subscription. If you'd prefer an ebook version, you can find that on Amazon.
I'm always writing new historical fantasy stories, and as those are published and have the rights revert to me, I plan on doing more volumes of Unfixed Timelines. So I hope that my readers have enjoyed this one, whether on Channillo or in ebook format!
And if you've enjoyed this book, I have three other series available at Channillo, which you can find here! One of these (Camp Haunt) can't be found anywhere BUT Channillo!