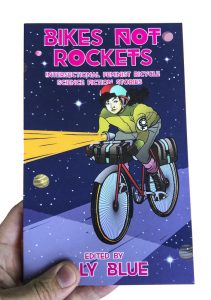 It's fitting that I've just finished reading and reviewing a book about bikes, since I'm getting ready to go on a bike trip … sort of. I won't actually be on a bike, but I'll be accompanying my mom and sisters on a bike trip as their driver. This way, we can throw all of our stuff in a car, and I can bring them food, water, or whatever else they need, or pick them up if there's a problem with the bikes.
But that doesn't really tell you anything about Bikes Not Rockets, other than the fact that it's related to my upcoming trip. It's a fun anthology of eleven stories featuring bikes and messages of hope.
If this sounds awesome, you can check out my review at Mad Scientist Journal, or you can pre-order the book (and/or its predecessors) at Microcosm Publishing!