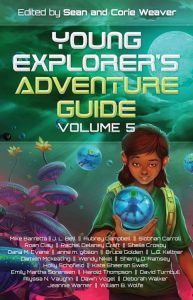 The fine folks at Dreaming Robot Press are currently running a Kickstarter for the fifth volume of the Young Explorer's Adventure Guide. I've had stories in the last two, and I will also have a story, "The Magnificent Matter of the Mischievous Monkey," included in volume 5!
My story is a steampunk detective story featuring the Marsh sisters, this time trying to find a clockwork monkey created by their Grandfather that has escaped the mechanical garden and is wreaking havoc on the streets of Dover. They're accompanied by a lady architect who had been consulting with the elder Marshes when her valise was snatched by the mechanical monkey.
I'm excited to introduce more readers to the clever little Marsh sisters, and I know from reading past volumes that the other authors included will also have great stories for middle grade readers on up through adults! So check out the Kickstarter before it ends on October 24th!