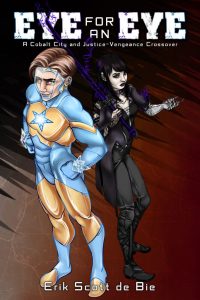 Sometimes, I only wind up reading books because I'm editing them, and that's the case with the books I'm talking about today. I've recently edited three books for DefCon One Publishing in the Cobalt City Universe, which I also write in. All of these books are re-releases, but I did a little bit of polishing for consistency across this shared universe.
Nathan Crowder is the originator of Cobalt City and author of two of the books I worked on: Ride Like the Devil and Ties That Bind. Ride Like the Devil involves Gato Loco and Snowflake, the former detective and his sidekick, along with high stakes motorcycle races, mysterious happenings, and foul-mouthed evolved pandas. Ties that Bind has a darker tone, as Bantam and Velvet, a new heroic addition to the city with a former member of the Protectorate, team up to take down a human trafficking ring.
The other book I worked on is Eye for an Eye by Erik Scott de Bie. This book won't launch until early October, but you should definitely check it out. In this book, Cobalt City's best-known super hero, Stardust, deals with the arrival of Lady Vengeance, a powered woman who treads a fine line between hero and villain. Her presence, along with the menace that follows her, threatens to upend Stardust's entire life.
If you're looking for some fun super heroics, check out these three books, all of which are available through DefCon One, along with many other Cobalt City titles!