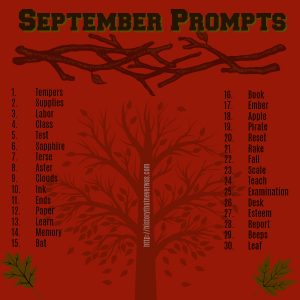 It's already September, and I hope that my readers in the Northern Hemisphere are seeing cooler temperatures after the scorcher of a summer than many of us had. I'm sure the parents among you are looking forward to the kids going back to school. This month has some prompts inspired by the back-to-school time, some by the changing seasons, and some by the month itself, including words derived from the word "September."
As always, feel free to interpret the words in the way you like. I've tossed in some fun ones for that this month!
Check back on the last Friday of each month (or occasionally the first day of a new month, when that falls on a Friday) for my History That Never Was writing prompts!
Text version of the prompts:
Tempers
Supplies
Labor
Class
Test
Sapphire
Terse
Aster
Clouds
Ink
Ends
Paper
Learn
Memory
Bat
Book
Ember
Apple
Pirate
Reset
Rake
Fall
Scale
Teach
Examination
Desk
Esteem
Report
Beeps
Leaf