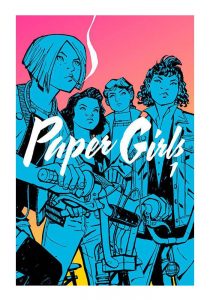 I've been trying to work through my overwhelming stacks of graphic novels, so I'll be posting brief reviews here, with occasional links to my longer reviews.
This week's selections were primarily Image Comics, with some Marvel Comics and other ones too.
Paper Girls Volume 1 (Image Comics)
Quick take: Teenage girls in the late 1980s deal with weirdness coming to their town.
Pros: I love the weirdness, the setting, and the art, though there are two girls with really similar hairstyles. But it's the 80s, so of course there were.
Cons: The weirdness appears quickly, and I think I'm going to wind up having to re-read this when I get the next one in the series. There's a lot going on, including time travel, and that always makes things difficult to follow.
Overall: If you like weirdness, time travel, and the 80s, sign up for this one!
(You can read my longer review of Paper Girls at MSJ!)
Sheltered Volume 1 (Image Comics)
Quick take: The teenage children of a survivalist group preparing for the coming apocalypse.
Pros: The setting and the overall premise is interesting.
Cons: I didn't like any of the characters, there are a LOT of characters, and the art style made it hard to differentiate them.
Overall: If you don't mind reading about characters with no redeeming qualities, you might like this. If you don't like reading about bad people doing bad things and not being punished for them, you'll likely dislike this.
Lazarus Volume 1 (Image Comics)
Quick take: Post-apocalyptic warring families and an enforcer who can't die.
Pros: I love the setting and the characters and the art.
Cons: Ummm… I don't have time to read the rest right now?
Overall: This one was one of my faves that I read last week, and I'm excited that we already have all the rest on hand. Now to find time to read them!
Moon Girl and Devil Dinosaur Volume 1: BFF (Marvel Comics)
Quick take: Young super genius and her extra-dimensional dinosaur protector/pal.
Pros: Moon Girl is a fantastic character, Devil Dinosaur is delightful, and they're dealing with some very wild stuff.
Cons: The layout of this comic, mixed with the common speech and thought bubbles in the same panel, were hard for me to track.
Overall: I probably won't continue with this one, but I look forward to seeing Moon Girl pop up elsewhere in the Marvel world.
America Volume 2: Fast and Fuertona (Marvel Comics)
Quick take: Semi-extraterrestrial semi-Latinx superhero who can punch portals to other places.
Pros: I was already a fan of this series, having read the first book a while ago. This book did a great job of recapping the previous volume, which always makes me happy. And the story just keeps getting better!
Cons: The villain is a little over the top, but that's all I could complain about.
Overall: Yes, more please. Jeremy doesn't love this one the way I do, but he'll still get them for me!
Spell on Wheels Volume 1 (Dark Horse Comics)
Quick take: Witches on a road trip to reclaim their stolen possessions.
Pros: Witches. Road trip. This is 100% my jam.
Cons: Ummm … I want more?
Overall: This was another of my faves, and I'm looking forward to more. I'll also likely be giving this one a fuller review on MSJ, but not yet!