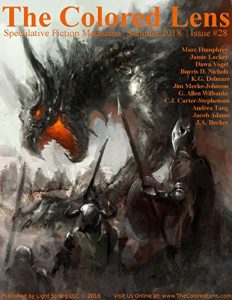 The latest issue of The Colored Lens is out, and with it comes my story, "Happily Never After."
"Happily Never After" is a Cobalt City-adjacent story. It's actually set in Cerulean City, on the West Coast, but some of the characters in it are from Cobalt City. This is a sort of prequel story for the superhero who will one day call herself Gray Dawn, Cassidy Sweet. Cass is a pop star whose career didn't start until she was 18. In this story, set in the 90s when Cass is 23, she's on a mall tour that she really regrets agreeing to, at least until she meets some of the local Cerulean City superheroes!
"Happily Never After" is also the name of one of Cassidy Sweet's songs, and because of this story, I wrote the song. Someday, I'm going to record it!
This story will eventually be live on The Colored Lens's website, but until then, you can read it and many other stories in ebook format!