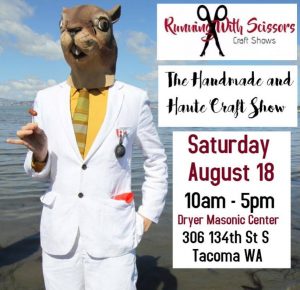 What does a man-sized squirrel with an hors d'oeuvre have to do with Brass and Glass 2? Not much, except that it's advertising the next opportunity for you to get your hands on a SIGNED copy of my latest book!
I'll be at the Handmade and Haute Craft Show in Tacoma on Saturday, August 18th, with a full selection of DefCon One Publishing's books, and I'll also have copies of Brass and Glass books 1 and 2. The Brass and Glass 2 books are still the special limited edition, so get there before I run out! If you're extra nice, I might even tell you things about book 3!
In addition to our books, there will be a bunch of local artists and crafters, and having done some shows with these fine folks before (in my craft-person guise rather than my author-person guise), the things they bring are phenomenal!