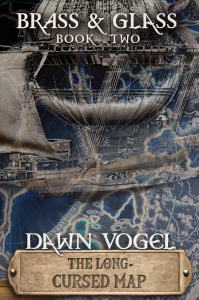 In case you were waiting for Brass and Glass 2: The Long Cursed Map, I'm pleased to say that it's now available!
If you're interested in a signed copy, let me know! I have physical copies (which aren't available yet on Amazon). I'll also be at some events in the coming months, where you can see me and get a signed copy!
The first event will be the Indie Author Event at Brick & Mortar Books in Redmond, on Thursday, June 14, from 6-8 p.m. I'll be there with 19 other authors, and we'll be talking about our books and signing!
The second event will be Spocon in Spokane, Washington, from Friday, August 10 through Sunday, August 12. I won't have a table here for selling books, but my books will be available through the Marmot Market, I'll be appearing on panels, and I'll be happy to sign books for anyone who has them!
The third event will be at the Handmade and Haute Craft Show in at the Dryer Masonic Center Tacoma, on Saturday, August 18, from 10 a.m.-5 p.m. For this one, I'll be representing DefCon One Publishing, but I'll also have my books from Razorgirl Press. And if you're a fan of my crocheted stuff, I'll also have eyeball cat toys and F-bombs for humans and cats!
I may add more events to the summer, especially since July is currently wide open for me! So stay tuned!