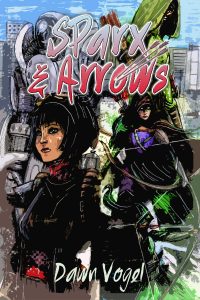 One of the awesome things about Cobalt City is that it's one of many worlds that's a part of something called the Coil. There are infinite variations that can be found, with the right technology.
My story, "Big in Japan," explores one such alternate world that Kara Sparx somewhat accidentally stumbles into. She's trying to create a way to travel the Coil, but it doesn't work out exactly as she planned.
But Kara's a scientist, so it's certain that she's going to work on refining her invention until it does what she wants it to. So I've got plans to write more stories of Kara in the Coil.
In the meantime, if "Big in Japan" sounds awesome, you can find it in Sparx & Arrows, which can be found on Amazon (of course), but also at Channillo.