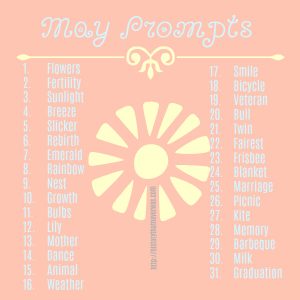 May is on its way, and with it comes the May writing prompts!
This month has more spring-themed words, along with some of the events that happen in May. And of course, you don't have to go with a May-themed interpretation of these words!
Check back on the last Friday of each month (or occasionally the first day of a new month, when that falls on a Friday) for my History That Never Was writing prompts!
Text version of the prompts:
Flowers
Fertility
Sunlight
Breeze
Slicker
Rebirth
Emerald
Rainbow
Nest
Growth
Bulbs
Lily
Mother
Dance
Animal
Weather
Smile
Bicycle
Veteran
Bull
Twin
Fairest
Frisbee
Blanket
Marriage
Picnic
Kite
Memory
Barbeque
Milk
Graduation