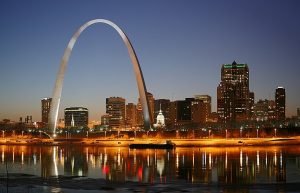 This year seems to be the year of many adventures for me. This time, I'm off to the city that birthed me, to visit my mom and sisters. It'll be a different sort of adventure, as it's a combination of me hanging out and also working. One of my sisters and I will be commandeering Mom's dining room for part of the week, and using that as our respective offices.
But I'm also going to get to visit my favorite park in the world (Laumeier Sculpture Park), the Arch, and the new Busch Stadium for a baseball game (Cards vs. Mets, which I'm extremely excited about, since it's my hometeam vs. the team we hated the most in the '80s!). Oh, and I get Ted Drewes.
If none of this makes a lick of sense to you, that's okay. The short version is that I'm getting the things I love about the Midwest. And hopefully not too many of the things I don't love, like humidity.