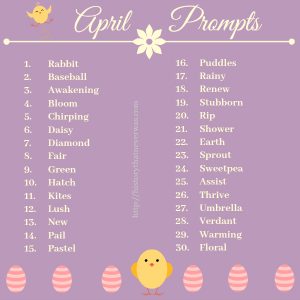 April is just around the corner, so it's time for April's writing prompts!
This month, the words are mostly spring themed, but there are all sorts of interesting directions you might take words like "awakening" or "thrive," for example. There are a few other things tossed in for good measure, include a couple of words that can be made from the letters of April (but those are harder to find when the month's name is shorter!).
Check back on the last Friday of each month (or occasionally the first day of a new month, when that falls on a Friday) for my History That Never Was writing prompts!
Text version of the prompts:
Rabbit
Baseball
Awakening
Bloom
Chirping
Daisy
Diamond
Fair
Green
Hatch
Kites
Lush
New
Pail
Pastel
Puddles
Rainy
Renew
Stubborn
Rip
Shower
Earth
Sprout
Sweetpea
Assist
Thrive
Umbrella
Verdant
Warming
Floral