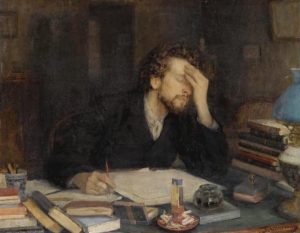 Late last week, I had to make the difficult decision to stop working on one of my novel projects (the rewrite of Camp Haunt). The process had been going very slowly, and in order for me to get it done within my self-imposed deadline, I would have had to write a lot in a limited amount of time.
Rather than rearrange my schedule, I decided that backburnering this project was the better choice. This doesn't mean I'll never come back to it, but it's just not the book that I'm able to write at the current moment, which is likely why it felt like a huge slog to get through the needed work every day.
It can be a difficult decision to give up, even temporarily, on a project you've been working on. After all, there's plenty of advice in the writing world that says that finishing things is important. And while this is ultimately true, it also does a disservice to authors who take it to mean "you must finish the thing you have started before you start another thing." It's perfectly fine to put a project on the backburner and come back to it later. The trick is making yourself actually come back to it later.
In my case, I've already rescheduled when I plan to work on Camp Haunt, and while it will be a few years out, I think that may be the distance I need in order to write this novel. And since I've got it outlined, I should be able to jump back into it when I'm ready. And I'll still have the first almost six chapters done, too!
If you're finding yourself stuck on a project, ask yourself if it's something that you might want to backburner until you're ready to write it. While that's not always an option, sometimes it is, and sometimes it can give you the break you need so that when you do write it, it's done well!