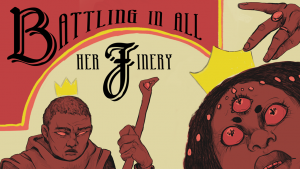 Have you checked out the Kickstarter for Battling in All Her Finery yet? We had an amazing launch last week, nearly hitting 15 percent of our goal JUST in the first 4 hours! We're around the 3/4 point in funding, and still going strong!
We're absolutely thrilled with how wonderfully this Kickstarter is going, but we want to spread the news of it far and wide! This is going to be an anthology you don't want to miss out on!
Be sure to check it out before it ends on February 28th!