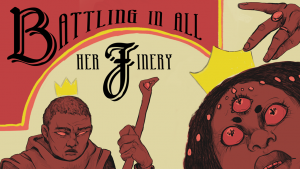 Today on Facebook, we're launching an event to count down to the launch of our next Mad Scientist Journal anthology on Kickstarter. Which is a long way of saying: we've got another Kickstarter on the horizon!
Battling in All Her Finery will be an anthology of science fiction and fantasy stories about woman leaders: presidents, queens, high priestesses, admirals, matriarchs, CEOs, and more. Each story will be written from the perspective of someone who has either been or been around these leaders. We use an inclusive definition of "woman" and "female," and we welcome stories about anyone who identifies as a woman on some level.
The Kickstarter launches on February 1st, and I'll be posting about it quite a bit here. But if you're interested in learning more about the anthology before the Kickstarter launches, you can RSVP to the Facebook event here. Each day, we'll be posting a little about the anthology and/or matters related to women leaders!
And, of course, we'll have a call for submissions in March, assuming that we are successful in reaching our funding goal! So start brainstorming your story ideas now!