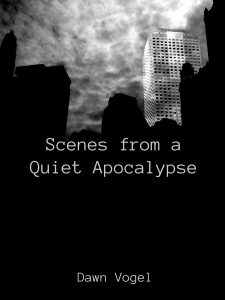 My next novella, Scenes from a Quiet Apocalypse, will be out in a couple of weeks, and it's available for pre-order now! The title hints at what it's about, but the blurb explains it a bit better!
Without warning, most of humanity stopped speaking. Acting in silent unison, they overthrew the world in service to an unknown force. Their takeover was swift and decisive. Those who were not among them were left to rot in the streets.
Destiny is one of the Untouched, unaffected by the Silent Upheaval, and also something more. As she travels through the post-apocalyptic city she once called home, she meets those who will help her and those who will hinder her as she seeks what caused the Quiet Ones to emerge and takes the fight to their home in the Silent Core.
This novella will be available in ebook formats only.