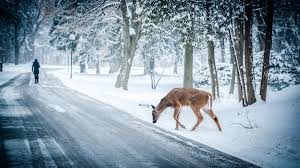 You know how they say that a picture is worth a thousand words?
Today's writing prompt is the picture to the right. Sure, it looks like a simple wintery scene, but there's a deer grazing at the edge of the only partially cleared road, and there's a woman walking away. One might assume that the two could have interacted, or that the deer is eating something she left in her wake.
Or you could go even more toward the fantasy side of things, and consider that perhaps just moments before, she too was a deer. Did she transform willingly, or through strange magic? Did she and the deer swap their minds, so that now a deer in a woman's body is walking away, while a woman in a deer's body is trying to find food?
There are all sorts of directions to take an image like this, so see what you can come up with!