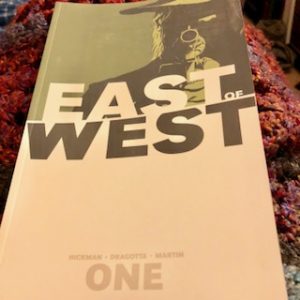 I had a bit of time to read a few of the graphic novels that are currently in my towering stack. (This stack is intimidating. And possibly dangerously tall.) One of them was East of West: Volume One.
This graphic novel seemed like it should be right up my alley, with its weird west/alternate history vibe. For those familiar with the game, it's VERY Deadlands. So I was excited to read it.
Unfortunately, I had a really hard time connecting with the main character. He's a character I feel like I've seen a million times before in this genre–the victim of some heinous betrayal who has come back to avenge those wrongs. It's the idea behind The Crow and the Saint of Killers from Preacher. And while I liked it once or twice, I feel like it's been done too many times, and there was not enough different about this character or this comic to make me care about yet another dude who was once betrayed. (I will admit that I'm curious about one of his companions. But I suspect that at best, there may be a one-off comic featuring her, and that's about it. So I'll pass.)
So while it wasn't my cup of tea, it turns out that my friend Vanessa was looking for something to read, and was super excited by my quick description of it, so we've sent this one off to her. And fortunately, we'd only bought the first collection (a good trick that Jeremy is learning to do with both the ones I tell him that I NEED and the ones he's had recommended to him), so we didn't wind up with a stack of books we don't love!